La students had a special surprise for their teacher after a secret fundraiser helped provide him with a new car.
Julio Castro lives in the Santa Clarita Valley and works at the modern Orthodox Jewish campus, YULA Boys High School.
The thing is, his commute to this school is over 4 hours without a car, and the teacher spends a large portion of his morning just getting to the campus by bus and scooter.
He usually wakes up at 4:30am and arrives home around 9:30pm – and that doesn't really allow him any time for his 3 children who are usually sleeping by the time he leaves and returns home.
The journey for him was worth it, despite its lengthy commute. "YULA "opened the doors for me, they accepted me as a family member," Castro said. "And you can't buy that. I want to be here."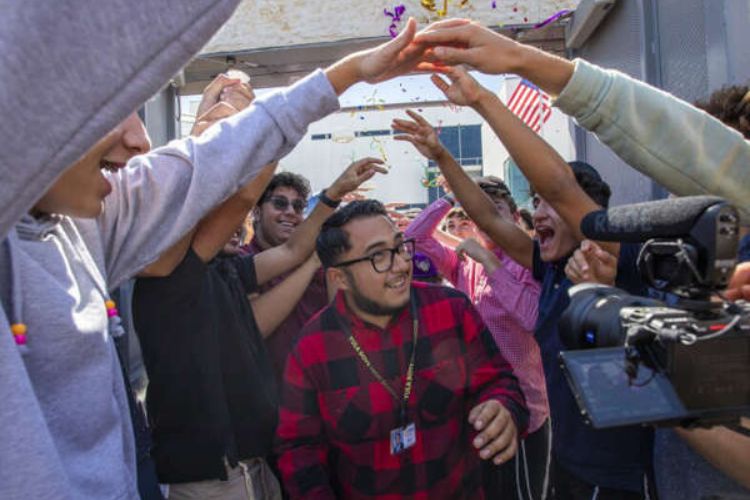 He made use of the bus ride by grading papers or taking a much-needed nap.
"He'll skip his lunch break to help a student and stay after school. He also helps students who aren't in his classes. He's really, really, really devoted to our futures." Joshua Gerendash, a student, told the LA Times.
He happened to catch a glimpse of his teacher looking at cars online, searching for something he could drive for $1,500.
Castro's students knew of his commute from home to school, but what he never expected, was the lengths that his students went to in order to get him a brand-new car.
After a month of campaigning by the students and parents of YULA Boys High School, they managed to raise about $30,000.
@yulaboys math teacher Julio Castro was waking up at 4am and returning home after 930pm to teach in YULA. He had to take a bus and a scooter to work.
So the students raised $30,000 and bought their math teacher a @MazdaUSA 3 Hatchback.
Incredible! pic.twitter.com/oOp7i8Jj0d

— Mordechai Burg (@RavBurg) August 27, 2022
This money covers a year of insurance and gas as a grateful gesture for their teacher, as well as getting him a brand-new car!
The next task was to gift him the car in a memorable way, and it was done so at a faculty appreciation assembly that was set up for Castro specifically, which he himself showed up late to due to the commute.
From videos to confetti cannons, his students welcome him to his new vehicle, a certified pre-owned Mazda 3 hatchback
"No matter what happens with him, he is gonna find some way to pay it forward," senior Charlie Leeds recalled.
"We've been taught certain values like empathy" and to "treat your fellow person as you'd want to be treated. Mr. Castro is the embodiment of that. With this car, with this new opportunity, he's only going to find more and more ways to help other people around him."
Castro now has a car that's as good as new and is thankful for his students who helped make this happen.
"I made the best out of it," he said.
"I always told them: When life doesn't go your way, what do you do? Don't cry about it. Don't whine about it. Just be grateful for what you already have, and then move on. And one day some good things will happen." Castro himself concluded.
Latest posts by Kayla Kissel
(see all)