A two-year-old girl was finally able to go home with her parents after spending over 2 years in the hospital battling a chronic lung disease.
Back in December of 2019, little Addy Smith was born prematurely at just 27-weeks via cesarean section. She was considered small for her age and was diagnosed with intrauterine growth restriction while still in the womb. IUR or fetal growth restriction (FGR) is a condition where a baby doesn't grow at a normal rate in the womb and leads to lower weight at birth.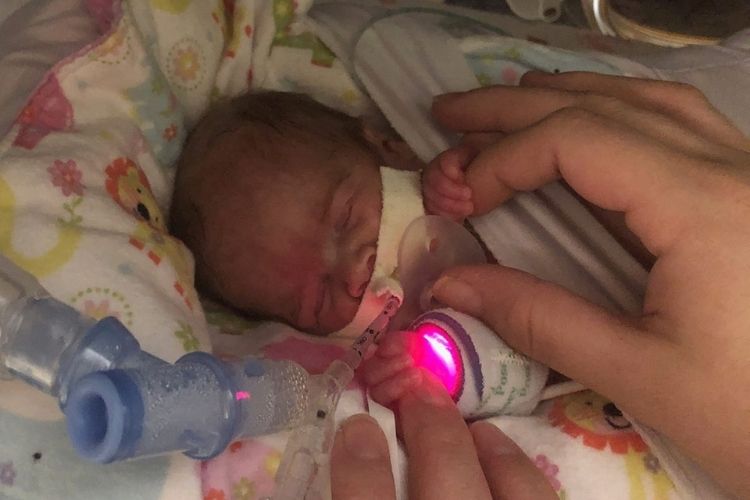 For seven years, Addy's parents, Aliesha and Chris Smith, had struggled with infertility and unable to bare any children.
"We had tried so long. It was never ever on the table, never an option to not see things through with her and not give her a chance," Chris said.
Right after her birth, Addy was moved to Sharp Mary Birch Hospital for Women & Newborns in San Diego for her first treatment. While she was there, Addy made some progress, but her lungs were underdeveloped. She moved from a ventilator to a continuous positive airway pressure (CPAP) to help her breathe.
After an episode in which Addy couldn't breathe, the team at Sharp Mary Birch told Aliesha and Christ to transfer her to Rady Children's Hospital. They acted quickly and admitted her into Rady's neonatal intensive care in March 2020, when the pandemic was first surging.
Due to the pandemic restrictions, both Aliesha and Chris had to split time with Addy as the hospital only allowed to have one parent by their daughter's side at a time.
"She was so critical, so critical, that we had a friend that let us use their RV. And so we parked on the street and that's one of us would be when one of us would be up by her room," Aliesha said.
Dr. Sandeep Khanna, the medical director of pediatric intensive care at Rady Children's Hospital, treated Addy for over a year in the NICU. He described how Addy would have periods of struggling to breathe on her own.
"The only thing which helped us through was that we had to give her a paralyzing medication after heavy sedation," Khanna said.
Despite the heavy drug treatment, the Smiths never gave up on Addy. Khanna worked hard to make sure that Addy was strong enough to be able to go home.
"She never gave us a chance to give up because she kept on saying she's there to fight and fight with me," Khanna said. "So, we did."
He's confident that Addy's lungs will grow and that she'll be able to do "normal things" once the ventilator is out.
After intensive treatment under the care of many nurses and her medical team, Addy's condition began to improve. Physical therapy also played an important factor as it helped build her muscles and lungs.
Between February and March 2022, Addy stopped having muscle spasms in the lungs. Finally, after 848 days, Addy was allowed to return home with her parents. Family, friends, and Rady staffers gathered signs and pom-poms to cheer little Addy on as she left the facility in a stroller. She surprised many members of her family, including her parents.
"She constantly just surprised us," Aliesha said. "Almost every time after that 'home' word came up, something always happened literally the next day to her."
Now, the Smiths are at home with Addy and their 6-month-old son Aiden, who was born last year.
"She starts cracking up when he's laughing or when he's screaming, she cracks up, and it's funny to see them interact," Aliesha said. "We've taken them on walks together out in the neighborhood, which has been so fun to do."
Even though Addy still needs a ventilator at home, Aliesha and Chris are hopeful that their eldest child will get better.
"It's been miracle after miracle with her," Chris said. "We're both so excited to see where she goes and what she can do. And I know she's always going to continue to blow us away and surprise us."
We hope that Addy get better each and every day through some love and majic.