Supermom Duck Cares for Brood of 76 Baby Ducklings in Minnesota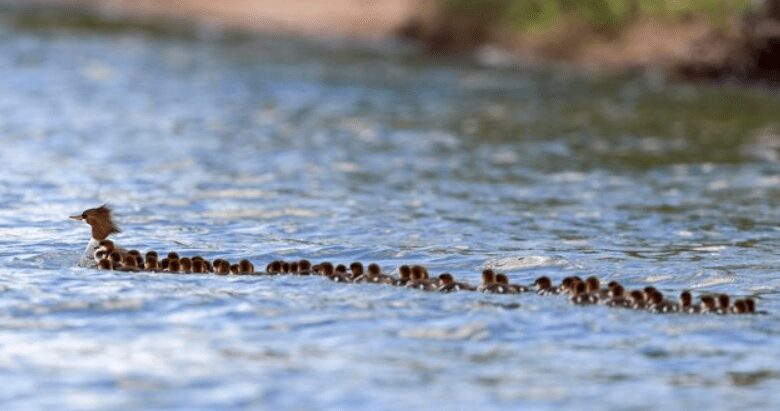 If there was a mother of year award given out to water fowl, a Common Merganser mama duck wading and waddling around Bemidji, Minnesota, would certainly win the prize.
Last week, a local photographer, Brent Cizek, 32, captured an adorable shot of the mother duck followed by upwards of 50 fuzzy ducklings and posted the surprising image to his Instagram and Twitter. The Audubon Society soon took notice, and more folks in the immediate environs of Bemidii began to see the massive quacking brood out and about. Cizek told the Audubon that he's seen a Common Goldeneye mother duck with around 20 babies following behind in the past, but nothing on this level before.
Since his lucky encounter on July 16, Cizek has continued to track the growing family, which currently boasts a 75-plus headcount. PEOPLE reached out to Cizek, an inventory specialist for an e-commerce company and wildlife photographer on the side, to learn more about this unique flock.
At the end of June, Cizek says he ventured out to the local lake, Lake Bemidji, on a scouting trip to look for wildlife and good photography locations. "I was on the water for about 15 minutes before I first saw the large group and was completely shocked," Cizek tells PEOPLE. "I had never seen any kind of bird with that many babies. They were acting pretty skittish, so I backed off and let them be."
About an hour later, Cizek says he saw the large group again. This time they were resting on the beach, just beginning to get back into the water.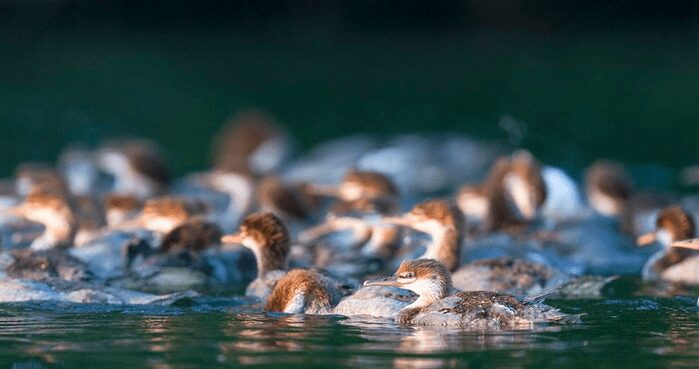 "I saw Mama Merganser in front and all of the chicks followed in tow. It was a pretty remarkable experience, so I tried my hardest to get a photo. The water was pretty rough in my small boat, making it next to impossible to keep the entire family in the frame, so I fired off as many shots as I could, praying that one shot would be in focus," says Cizek. He lucked out with a great shot, and instantly knew people would love it. "I think the photo draws people in … [they] instantly question 'How in the heck is that possible?'"
Upon returning home, Cizek began researching bird books, trying to figure out if what he witnessed was normal, and how and why it happens. According to Kenn Kaufman, field editor for Audubon, ducks will often lay a couple of eggs in other ducks' nests. Scientists aren't entirely sure why they do this, but think it could be a kind of reproductive insurance policy akin to "not putting all of their eggs in one basket."
And while 50 ducklings is definitely on the high end, it's not unheard of. Still, there's a limit to the amount of eggs one mama duck can adequately incubate. A female duck usually lays around a dozen eggs, but can successfully incubate up to about 20 eggs. It's more likely that the mother duck in Cizek's photos has become an adoptive parent to a large amount of babies who somehow got lost or separated from their real moms and instinctively imprinted onto this generous lady.
Since he first saw the giant duck squad, Cizek has encountered the group several more times. When he saw them again in mid-July, the brood had increased to 76. "I have been trying to track her daily to see how many of the young survive. So far she is doing a great job looking after them. I have seen a few local people also post photos to Facebook after they saw my post. So far everyone has been incredibly excited to see the group," says Cizek.
Spent another morning with the mergansers. They are growing so fast. They continue to venture further out on their own, but as soon as Mama Merganser starts heading somewhere, they all quickly follow suite. Count is still at 70+. pic.twitter.com/MkIRc0wUnZ

— Brent Cizek (@brentcizekphoto) July 23, 2018
Cizek tells PEOPLE his experience following and photographing this special duck family has been educational. And though he loves to shoot any and all wildlife, so far he's had the most luck finding and snapping birds. "I never knew a single bird could care for so many young ones," says Cizek.
Help us share the Magic of Good News
---
Like this story? Share with friends: