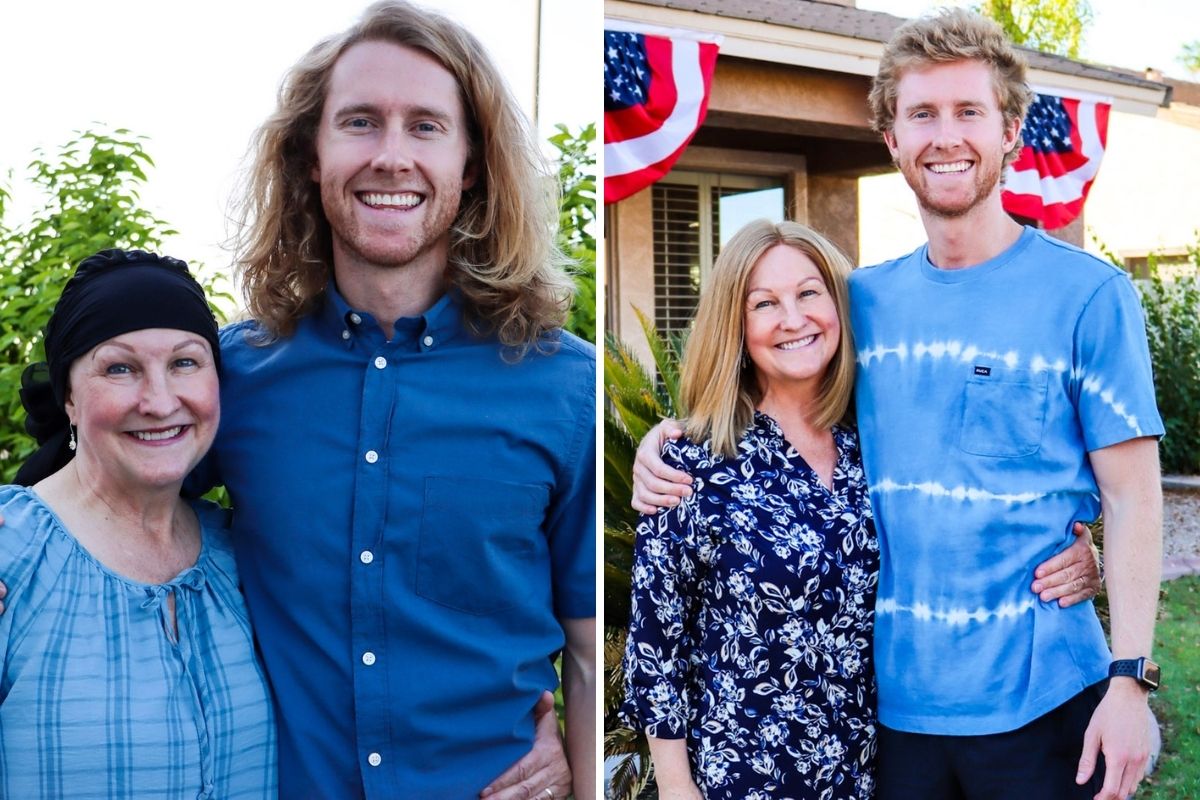 An Arizona man spent two full years growing out his hair so he could donate it to a special someone – his mother who's undergoing cancer treatment.
"I don't mind being sick, but I mind looking sick." Melanie Shaha, mother of six, said.
In 2003, Melanie Shaha was diagnosed with a benign brain tumor the size of a plum of her pituitary gland, which regulates hormones related to growth, stress, and metabolism.
Shaha had surgery to remove the tumor, but after the third tumor recurrence, she had to turn to radiation.
"I asked (my doctor), 'Will I lose my hair?' and they said 'No,'" Shaha told Today. "Three months later, I had a big shed and started losing hair. I was surprised."
"Not having hair, you stick out like a sore thumb and well-meaning people can say things that break your heart," she explained.
But her 27-year-old son, Matt, had plans to change that.
One day over lunch, he made a simple joke, "I said, 'Why don't I grow out my hair to make a wig for you?'" Matt recalled.
This joke turned into a reality when Matt took the idea and rolled with it, growing out his hair to be 12 inches long!
"I would tell him, 'I love your hair' and he'd say, 'Coming soon to a head near you!'" Shaha said, not wanting to burden her son with the task.
Regardless, her son's hair was closest to hers in texture and color, so he wasn't backing down from the challenge.
Come March, Matt was able to chop it all off!
"We were super pumped and when they started cutting, we bawled," said Melanie.
Matt even paid $2,000 to have the California wig-maker, Compassionate Creations, create the hand stitched piece.
The wig certainly is a gift to remember, "The color is spectacular and we had it cut and styled with a hairdresser," Shaha said. "Matt said it looks great on me."
"You know, I've lost my eyebrows, lost my eyelashes, I lost my hair, so it's just been such a tremendous gift to be able to have a more normal appearance, to go places and not stand out because you look unusual, but to fit in and be beautiful," Melanie told KSAZ-TV.
"It's really great."
The co-founder of Compassionate Creations, Veronica Balch, told TODAY, "The family was such a joy to work with. When someone selflessly shaves their head for a family member, it makes what we do even more special."
Melanie is now with a new head of hair and a love like no other for her son.