Runner who flew from New Zealand for the NYC Marathon stops halfway to help disabled racer cross the finish line
A man from New Zealand, who flew to New York just for the NYC Marathon, is being praised for stopping halfway to help push a disabled racer using a hand-cycle across the finish line.
30-year-old, Ben Parore, flew to New York with a charity called Cure Kids New Zealand, which funds medical research to help save, extend and improve the lives of children diagnosed with serious life-impacting and life-limiting health conditions.
Parore was around the halfway point and filming a selfie video when he came across 59-year-old James Akaka.
Parore was trying to get a smile out of the disabled runner when Akaka – who is unable to speak – pointed to the back of his hand-cycle.
After confirming that Akaka wanted help moving through the race, Parore jumped behind the cycle and started pushing.
The pair then completed the race together. Akaka's time was seven hours flat and Parore's was 5 hours and 12 minutes.
Parore told the DailyMail that he wasn't concerned about his finish time, but more moved and overwhelmed with gratitude to even be a part of such an amazing event.
"The race was amazing. It's my first time doing the New York Marathon and my heart was so full just being with thousands of people representing their families, cultures and countries."
He came across James as he was crossing the mile 13 mark.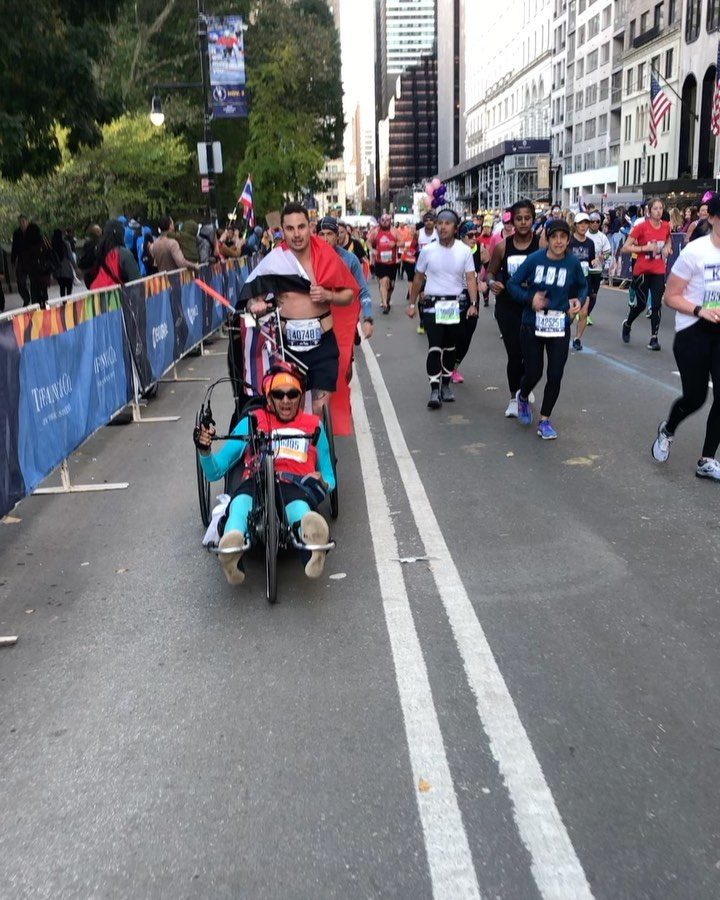 "He was giving it his all. He couldn't talk to me but he could hear me… it's like we were supposed to race together," he said.
Akaka had traveled from Honolulu, where he's chef and father-of-three. Akaka lost his voice and became partially paralyzed after suffering a stroke in 2011.
He communicates with his loved ones by typing or writing messages to them.
He completed Monday's race as part of the Achilles International team, which encourages people with disabilities to compete in mainstream running events.
Parore said he was left inspired by the man's determination.
"Thank you New York, WOW! The race was everything… so inspired by my Hawaiian brother I picked up halfway through the race. You gave the race even more purpose for me. Much love."
He has raised $4,861 of his $5,000 goal for Cure Kids New Zealand – fundraising page can be found here.
'His determination and willpower is amazing. I'm just blessed I can run. I'm inspired by his efforts,' he said, adding that he hoped the pair would meet again.
Sunday's marathon saw more than 53,000 cross the finish line.
Fifty people in wheelchairs completed the race and 69 finished it with hand-cycles, like Akaka.
---
Good News Of Your Own?
Share Your Story Here

Report a typo or email us your Good News:
share@majically.com