Runner volunteered to train blind athlete for marathon, then they fell in love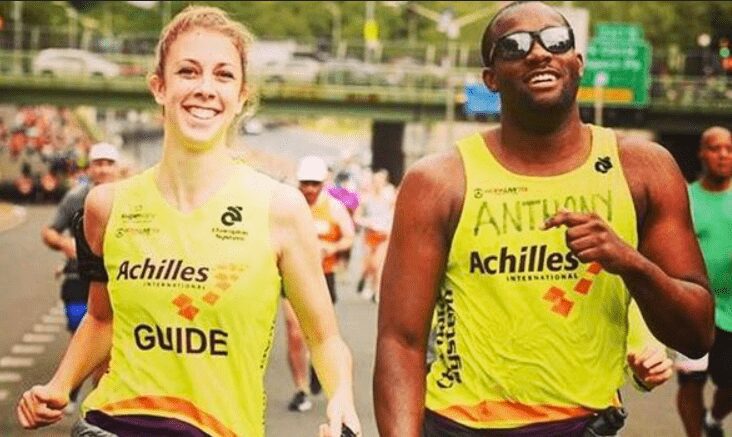 Training for a marathon can be a long and strenuous process, and it can also be a lonely one. So, after years of training alone, longtime runner Jessie Rix decided to seek out some companionship.
"I came across this organization and it pairs runners with athletes that have disabilities of any and all sorts," Rix told CBS News of the day she first volunteered at Achilles International. "It was a way for me to volunteer doing something I loved."
What she didn't realize was that she would soon be introduced to something she'd love even more – a blind runner named Anthony Butler.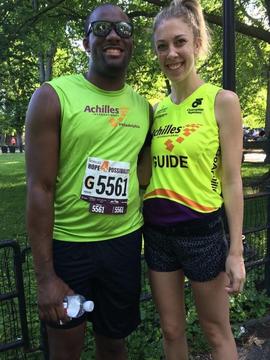 "I remember seeing him and he was just like the funnest person there and having the time of his life," she recalled. "He had a ton of people around him talking, laughing. And I'm like, I want to run with that guy."
So she did. That day, they logged a few miles around a New York park. Then, connected by a tether, the two began training for a marathon.
"When you're training for a marathon, you're spending probably 12 hours a week with someone," explains Butler. "So you're there for a lot, like when someone loses their job or when someone gets out of a relationship, or someone's just having a hard day. While they're running, which is a release, they're also venting to you, their companion."
In other words, if most courtships are like slow jogs, this one was more of a sprint, just by nature of the sport in which it took place.
"It's a very intimate sport," Butler explains. "I mean, you get to trust people. And me being blind, I have to have trust in that person guiding me and making sure I don't hurt myself. So that's why there's so much giving and receiving between both parties."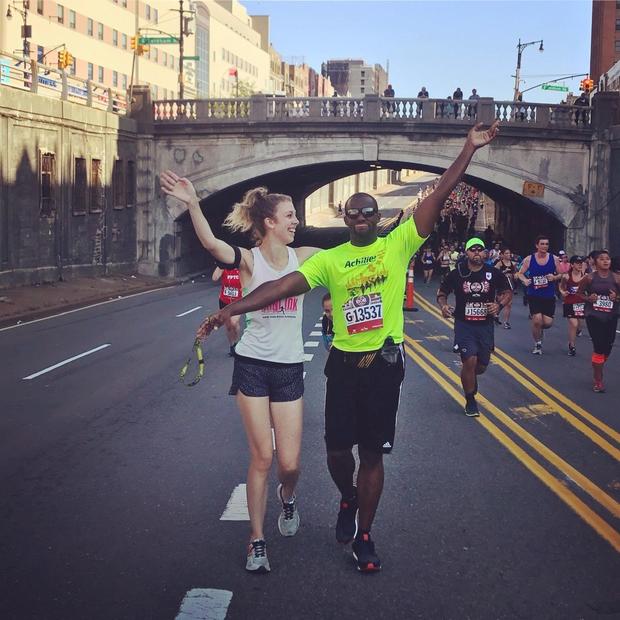 Mile by mile, the two traded stories and shared laughter, until they fell into an effortless lockstep.
"He's got an amazing perspective on everything and I've learned so much from him," Rix told CBS News, beaming at her boyfriend of two-and-a-half years now. "It's really changed my entire outlook on everything."
Butler's positive outlook on life would be admirable for anyone, but it's all the more so because he lost his sight in a shooting at the age of 20.
"I never thought I would wake up one day and wouldn't be able to see myself in the mirror," the former basketball player told CBS News. "I was hanging out with a few of my friends and some dudes walked up. We exchanged a few words and he started shooting."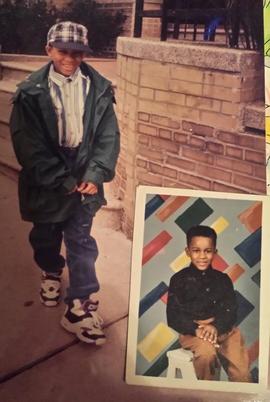 Butler took two bullets: one in the leg and one in the head. His friend was shot in the chest. And though they both ultimately survived, the incident stole Anthony's eyesight forever.
"I didn't know what to do. You know, I just lost my confidence," he recalled. "I got hit in my face, so I wasn't sure how I looked. I wasn't sure if I was ever going to be able to attract a woman or not."
He went through homelessness. He spent time in a shelter. And without basketball, his weight ballooned to 270 pounds.
"I just needed to just do something," Butler told CBS News. "You know, I just needed to get outside more. Because I spent all my time just in the house, after I'd come back from school. And one of my social workers was like, 'Why don't you go to Achilles?'"
That was four years ago. And thanks to that fateful suggestion, Anthony just ran his seventh marathon – with a woman who adores him by his side.
"If you don't put yourself out there, you don't know what you're missing," Rix told CBS News, reflecting back on their serendipitous meeting that first day in the park. "I just went out on a Tuesday to go volunteer and go for a run. [Anthony] did the same thing… You really don't know, just by saying yes to something, what that's gonna do for your future."
Story as seen on CBS News