Mom and local pharmacist invent 'monster spray' to help 7-year-old fight the fear of monsters under his bed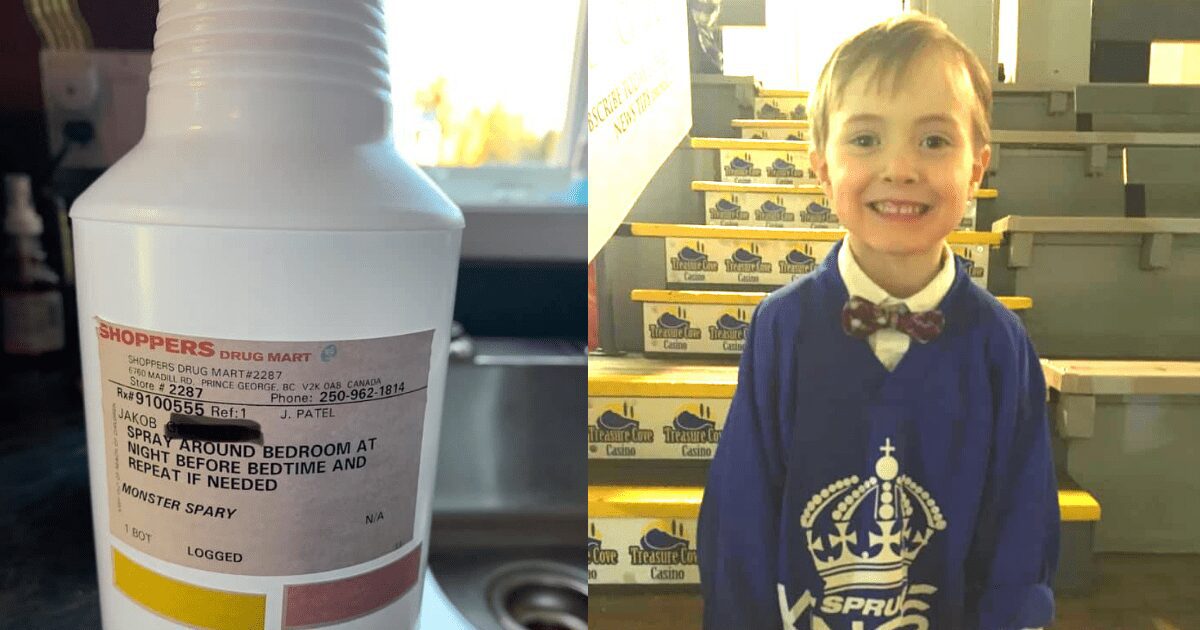 Thanks to a local Pharmacist, one kid is sleeping much better, and safer, knowing there are no monsters lurking under his bed. And it's all thanks to an "official" bottle of monster spray!
Worried about what lies beneath, 7-year-old, Jakob, from Prince George, BC, started sneaking into mom and dad's bedroom at night. Wanting to ease her son's anxiety, mom, Heather Garfield, knew she had to come up with a plan.
This wasn't Garfield's first encounter with this situation though – her older son had similar fears at bedtime just a few years ago. He came up with a "monster spray" to spritz around his room at night to keep the monsters away, she said.
But Jakob was a little too advanced for that theory to work so quickly.
"He's a little too smart for his own good sometimes," Garfield told CBC. "So I had to make it quite official."
And what could be more official than getting an actual prescription for 'monster spray'? So, Garfield visited her local Pharmacist, Jepal Patel, and she happily obliged.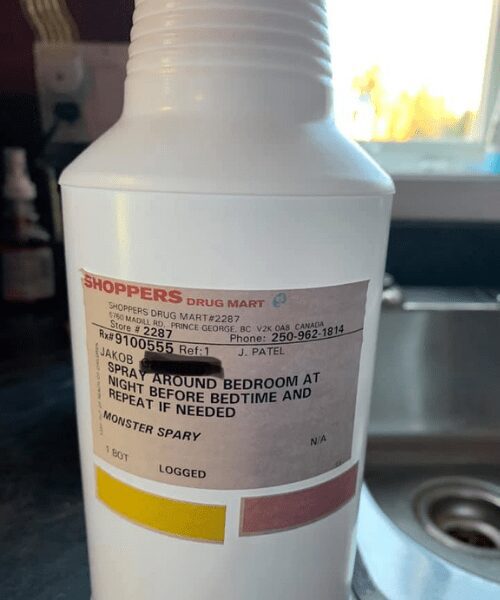 The Secret Weapon
Just a few minutes later, Garfield left with Jakob's new secret weapon: a spray bottle complete with an official pharmacy label including Jakob's name and instructions for use.
"Spray around bedroom at night before bedtime and repeat if needed."
So, what are the ingredients for monster spray? Well, that's unfortunately classified information, but we'll give you a hint, one of them is water!
Garfield posted a photo of the repellent to a Facebook group last Tuesday, writing:
"Huge thank you to Jepal at Shoppers Drug Mart on the Hart. My youngest has been having a fear of the dark and all the scary things that might come out," she wrote.
"I asked the pharmacy if they could make me a monster spray label and even though they were busy they were happy to do it. I love our shoppers location and the way they take care of our family," she added. Credit: Heather Garfield.
---
Good News Of Your Own?
Share Your Story Here

Report a typo or email us your Good News:
share@majically.com