Man's wife secretly publishes children's book he wrote in 2nd grade and his emotional reaction is priceless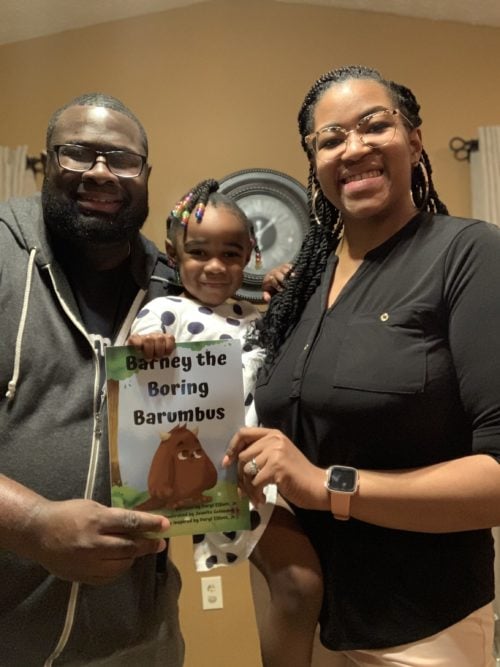 The goal of any author is to stand the test of time, to craft a work of art that readers will remember them by. Although he didn't know it at the time, Daryl Elliott Jr. did just that all the way back in the second grade with Barney the Boring Barumbus, a heartwarming story about the value of bringing kindness to others.
"Writing has always been an outlet for me," said Daryl. "With two older sisters and one younger brother growing up in Cincinnati, there was lots of pressures growing up where I am. Writing was an escape. I held onto that book for so long to read to my kid."
Now happily married with his wife Chelsea, he has spent many a night reading the adventures of Barney to his young daughter Natalie.
"We originally met on a dating app, and I immediately fell in love with his profile," said Chelsea as she described her husband's creative side. "I knew he was a good writer. Barney was so cute, and he was really proud of it."
But there was a small problem: Although the story was timeless, the paper he wrote it on was not.
"The older book was super cute with crayon coloring on it, but the pages were glued in roughly and it was pretty torn up," said Chelsea. The degradation was significant enough where Daryl had to handle the book with great care.
This gave Chelsea an idea, and it would give Daryl a surprise that he will never forget.
She decided to republish Barney, complete with updated illustrations and proper, professional-grade binding.
The task wasn't easy. Not only did she have to educate herself on the intricacies of publishing and make the right, but she had to do it quickly. "My goal was to get this together quickly before Christmas," she said. "I'm not into standard gifts. 'I'm going to make him cry for Christmas,' I said. I'm into meaningful gifts."
The illustrator was particularly important. Part of the charm of the original was Daryl's crayon drawings that accompanied the story beats. Chelsea did not want that to lose that magic.
"She was wonderful," said Chelsea. "She kept the drawings as close as possible. The pictures still look almost exactly the same, minus the last page where there's a love letter to my husband."
Chelsea got her wish. The second Daryl realized what he was holding on Christmas morning, he started crying.
"To be honest I didn't know what to expect," said Daryl. "I thought it could have been watch or tie or something. But seeing her there with the original book in her hand and looking at the one I had in front in front of me…I was lost for words. I'm about to cry right now. The thought that just goes into it…I'm at a loss for words. Three weeks and I still can't find the right words."
But the story doesn't end there. After friends and family saw just how wonderful the story of Barney actually was, they showed interest in having their own copy to share. Today, Barney and the Boring Barumbus can be found on Amazon for children ages one to 101 to enjoy.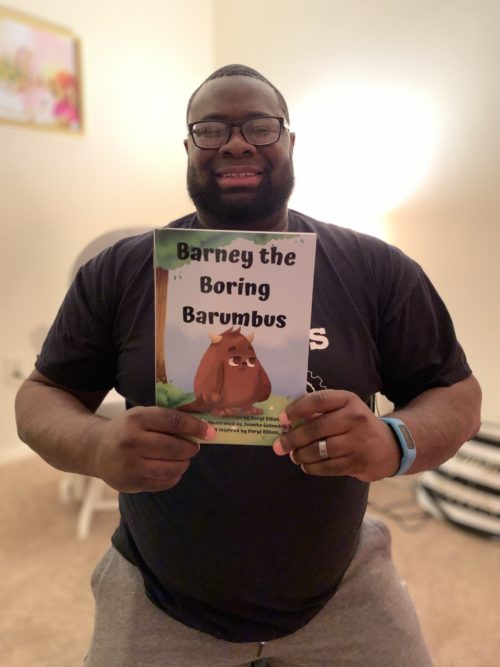 The feedback was so overwhelming, in fact, Daryl has even been inspired to continue Barney's adventures in a series.
"My original intention was just this one story," said Daryl. "I've been working on different ones for I don't know how long, but there's more to come because of the response we've received on Barney at church and at work. There's a need out there for Barney."
But while Daryl may continue the story of Barney, the story of how Barney sprung from his second-grade imagination to become the main character of his own published book will be one he will remember for the rest of his life.
"The best gifts don't always have to be this huge thing," said Chelsea. "It can be something you can just do."
---
Good News Of Your Own?
Share Your Story Here

Report a typo or email us your Good News:
share@majically.com