Irish students unite to save their classmate from being deported to Nigeria
Celebrations at Tullamore College after 14-year-old student was granted leave to remain in Ireland pic.twitter.com/119kT9mG5y

— RTÉ News (@rtenews) October 11, 2018
Late one night last week, Nonso Muojeke got some amazing news. The 14-year-old was awakened by his mother at 1 a.m., he said, after she found out that the family had been granted permission to stay in Ireland.
Nonso was born in Nigeria in 2004. After his father died in 2006, his mother "became property" of her husband's brother, according to a petition circulated to keep Nonso in Ireland. The petition said that "she was seriously mistreated by that brother and the rest of the family." In 2007, she fled with Nonso, age 2 at the time, and his 7-year-old brother.
The family lived in a hostel in Dublin before moving to Offaly, about 60 miles west.
Nonso's mother filed for asylum and was rejected in 2009; she appealed the case. In 2017, the justice minister denied the request and ordered the family to leave. The teenager told his friends that he was "terrified" at the prospect of moving back to Nigeria, a country he had never known. He didn't even speak the language, he worried.
When his classmates heard the news, they quickly put together a "Save Nonso" campaign, complete with a petition and a video targeted at Justice Minister Charlie Flanagan, who can overrule deportations.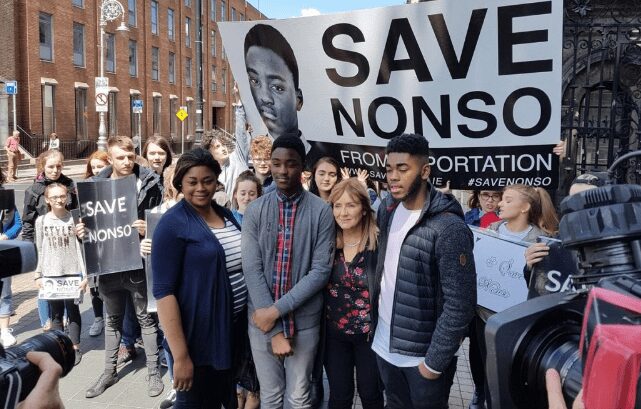 "The boys have been here since they were very young children and have been brought up as active Irish members of their community," the students wrote in their petition. "They are excellent young persons (one is still a fourteen year old child) who are making, and want to make, a positive contribution to this society. The Irish Constitutional guarantee on the best interests and rights of children is not empty rhetoric; and it must be honoured."
The cause quickly went global, and thousands of signatures poured in. Last week, the students delivered 22,000 signatures to Flanagan. Days later, Nonso and his family were informed that they could remain in Ireland. The Irish Department of Justice and Equality said it came to that decision after a "detailed reconsideration of the family's immigration case."
"Nonso has lived virtually his whole life here — over 11 years," Nonso's teacher Joe Caslin told the Irish Examiner. "Forcing him to leave the only home he knows will inflict great harm on this young boy."
Nonso, for his part, said he's just happy to be able to stay with his friends. "I would like to thank the minister for the humane way in which he handled my case," the teenager said in a statement. "I am really looking forward to my future here in Ireland."
Story as seen on Washington Post