British firefighters saved a wedding cake after venue catches on fire in a couple's third failed attempt to get married.
James Leggett and Amy Heath attempted to get married three times, but had to delay their wedding due to the pandemic. Their original date was August 2020 before it was pushed to April 2021 and then to April 2022.
When the day came to finally get prepared for the wedding at We the Curious in Bristol, England on Saturday afternoon, a fire broke out on the roof. Leggett was inside with attendees. Heath was leaving her hotel room with her bridesmaids at the Bristol Hotel when the museum went up in smoke.
Didn't *quite* get married, the venue caught fire as I was waiting for the guests to arrive… pic.twitter.com/CgkABbGCcD

— Leggett (@Leggett84) April 9, 2022
"We thought we were finally going to get there, and got so close, and that's the absolute killer," she told the BBC. "I was literally hold the door handle of the bridal suite, walking out the door, and my sister, who was the maid of honor, got a phone call from her husband, who said the roof's on fire. He said to turn around and look out of the window. I just stood there and froze."
The police ran to evacuate everyone, but the firefighters salvaged the untouched three-tiered wedding cake. They also saved old sentimental photos from smoke and water-damage.
Bridesmaid Grace Williams shared a photo of the firefighters with the cake.
"Thank you to the amazing firefighters who salvaged the untouched wedding cake from the reception room from what should have been @Leggett84 wedding @wethecurious_ had it not been for the fire," she wrote. "They salvaged old photos with huge sentimental value too. Thank you!"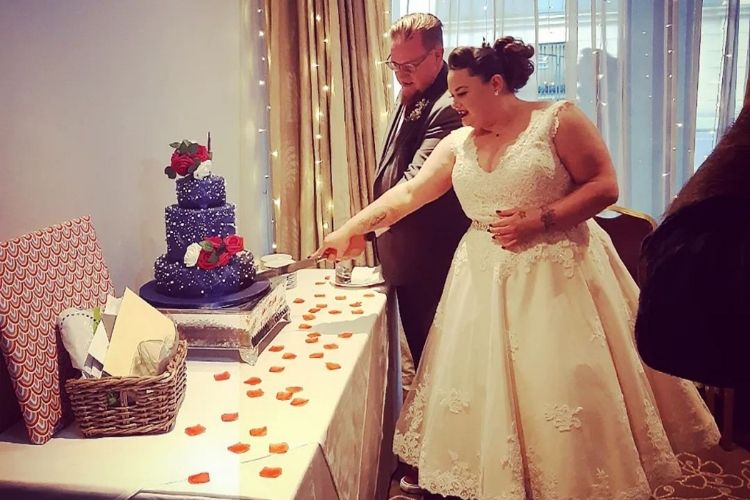 "The day was an absolute whirlwind of emotions," Legget responded, "and when we heard the pictures and the cake had been recovered, and then saw the firemen walk round the corner with it, was just indescribable. Thank you so, so much."
Donna Speed, We The Curious chief executive officer, said the firefighters "were so caring about the whole situation," according to the BBC.
Later that day, Heath and Leggett both cut into the cake. The bride's sister, Kathryn Bradfield called it "the best ending to an otherwise weird and bonkers day."
"Her beautiful dream wedding was literally burning before her eyes," she added. "Truly unbelievable. I cannot express my sadness for Amy and James for not being able to say 'I do,' but so proud of them both for making the best out of [this] situation."
All the staff and visitors were safely evacuated. The cause of the fire remains unknown. According to the outlet, We The Curious remains closed due to its "key server systems" being damaged.
When Legget and Heath do tie the knot, we hope that nothing (not even a fire) stands in the way of their union.