Getting married is one of the happiest days in a person's life. All their loved ones surround them and share in their joyous occasion. If all goes well, everything is exactly what that happy couple wants their day to be. What happens after that joyous day? Often times it's the honeymoon. For a medical student out of Richmond, VA, her work has just begun.
Eleanor Love makes very good use of the wedding day flowers once the Bride and Groom are finished saying their "I Dos". She'll contact the wedding coordinator and find out if the newlyweds have any plans for their flowers. The answer most often given is no.
That's when Love springs into action and whisks the flowers away to her group of eight volunteers that work with The Simple Sunflower. What do they do with these gorgeous flowers? Give them to her patients who are thrilled to receive such a beautiful gift.
Love started this endeavor in 2019. As someone that's loved flowers and gardening since she was a child, this is the perfect fit. She even worked part time at a flower shop before medical school. Once she and her business picked up steam, her volunteers delivered flowers to anywhere from 20 to 40 patients in a single day!
These patients are happy to have them. Said one patient, Connie Melzer to the Washington Post "I just broke down and cried." This was the moment she saw Love walk through the door with the flowers.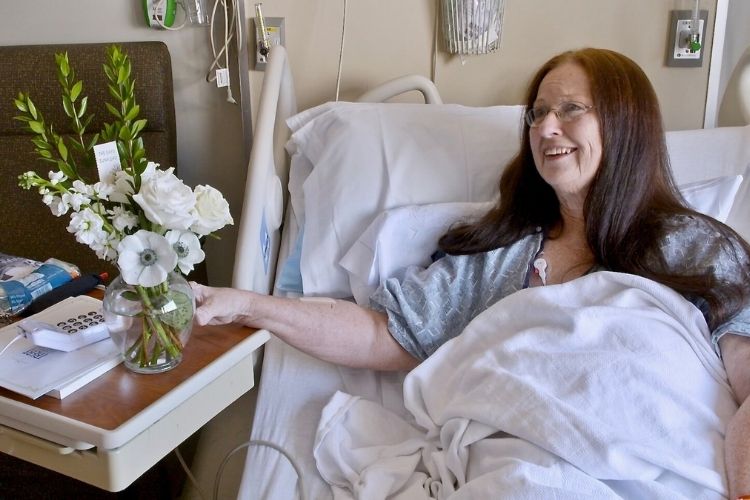 Said Love "Being able to deliver the flowers to those patients is very meaningful because you just see those patients'faces light up…you connect with them on a different level."
Love and her volunteers have repurposed and delivered over 760 bouquets to brighten the spirits of patients at VCU Medical Center. This selfless acting by a caring doctor shows that something as simple as reusing wedding flowers, can make a world of difference in someone's life.
---
Good News Of Your Own?
Share Your Story Here
Report a typo or email a good news story:
share@majically.com
Latest posts by James Stratton
(see all)