Bridal party carries rescue puppies down the aisle instead of bouquets to try and get them adopted
By Logan Wamsley
The planning stages of a wedding are never easy, and brides and grooms alike have been known to tirelessly agonize over every tiny detail.
The venue, the clothing, the food, the entertainment, and, yes, the bouquets, are all fair game.
One Florida couple, however, decided to go the extra mile regarding their bouquet selection.
Instead of roses or carnations, the couple decided that the 10 bridesmaids would each carry rescue puppies to raise awareness of the Adopt, Don't Shop movement — a movement dedicated to educating the public of the benefits of adopting animals from rescue shelters instead of pet stores and breeders.
Andee and Tina are both long-time animal lovers and have made them a central part of their lives.
Andee, in fact, works as the general manager of Bayside Pet Resort in Sarasota.
"Tina and I knew we wanted to do something to help shelter animals," said Andee in an interview with People.
"We both have a big passion for the adoption of animals and we wanted to help bring awareness to people."
Once the idea was hatched, the stars remarkably aligned. As it so happened, once Andee and Tina reached out to the Nate's Honor Rescue shelter, they discovered that they had a mom in foster care that was due to give birth any day.
"[S]he gave birth to 10 puppies," said Andee. "Since we had exactly 10 bridesmaids we thought, how perfect, we have to do this."
The puppies were far from being simple wedding props; every expense was made to make them esteemed guests of honor.
Andee even purchased a play pen for the puppies and their mom to enjoy the post-ceremony festivities in.
While the puppies were incredibly well-behaved throughout the ceremony, it wasn't completely smooth sailing.
"We had one accident on one of our bridesmaids, she got peed on," said Adee. But, of course, it was nothing a little laugh couldn't fix.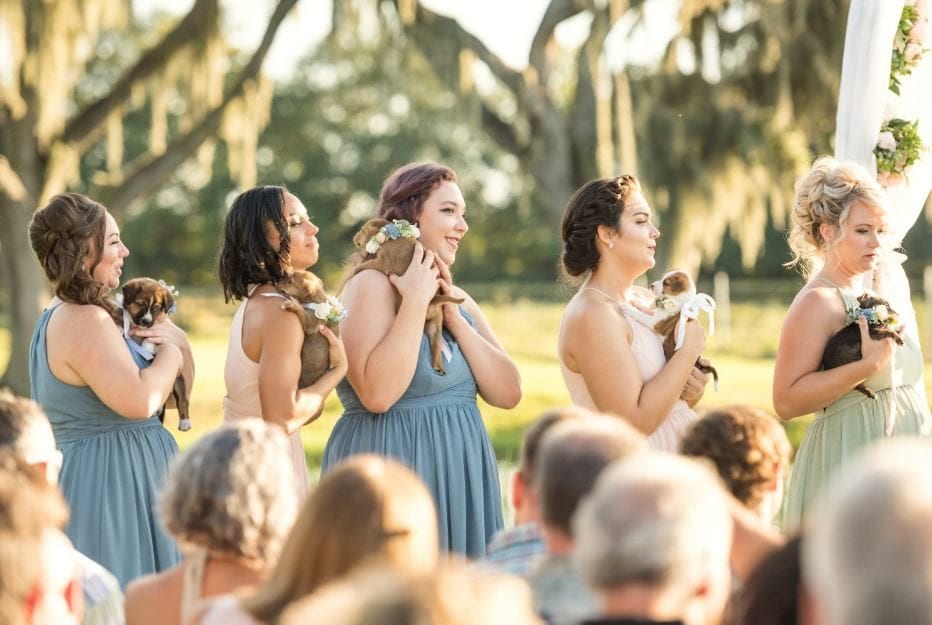 Funny enough, the puppy responsible for the tiny accident became the one the couple adopted to join their growing family.
"Carter, our 3-year-old daughter, looked at one of the puppies and saw the blue eyes and she said, 'I want this one,'" said Andee. "'He has blue eyes like Mama,' and she was talking about Tina, and that obviously melted our hearts and we said, 'Absolutely, he's yours!'"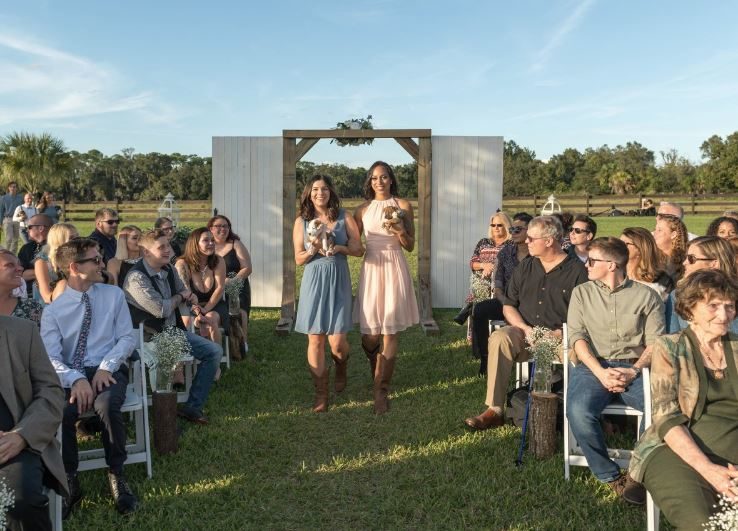 This little one was not the only one to find a home.
According to Nate's Honor Rescue, applications have already come in two of the other puppies involved in the ceremony.
Andee and Tina both hope that one day soon each of their special wedding guests will find loving forever homes.
"Shelter animals are not the animals people didn't want — they are perfectly good, healthy animals," said Tine. "The goal was to help shelter animals as far as we could reach."
These amazing photos were taken by Cami Zi Photography.
---
Good News Of Your Own?
Share Your Story Here

Report a typo or email us your Good News:
share@majically.com