A 5-year-old boy from Arkansas just made a few new friends during a recent hospital stay, and all it took was a pack of Post-it notes.
Meyer Mixdorf was confined to his hospital room at Children's Mercy Hospital in Kansas City after a stem cell transplant to treat brain cancer. Feeling like her son needed a mood boost, Liz Mixdorf, Meyer's mom, took a pack of Post-it notes and made a smiley face on Meyer's hospital window.
"We were simply trying to entertain Meyer and keep his spirits up," Mixdorf told Good Morning America. To both their surprises, the next morning they woke up to find people in the building across the street had responded with a smiley face of their own – they both got excited.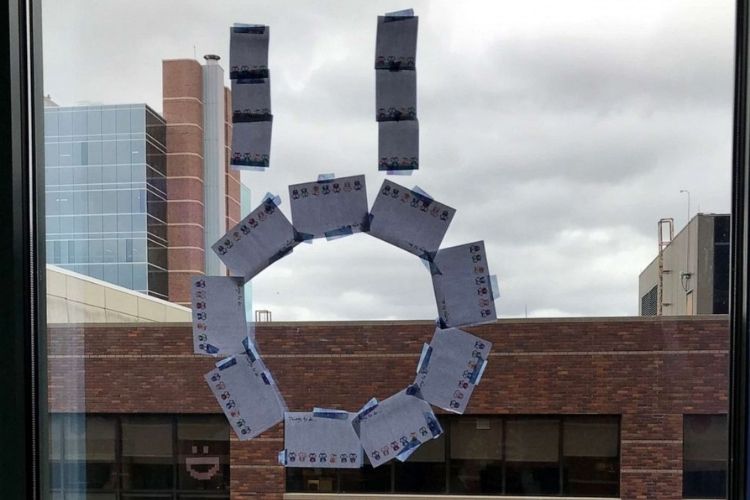 "We called them our mystery friends," Liz Mixdorf said. "It was so fun."
Mixdorf wasn't aware at the time, but across the street from them was the Truman Medical Centers/University Health, and their smiley face caught the eye of someone wanting to play along.
"I was just kind of looking out the window and there was a little Post-it note smiley face up there," Johnna Schindlbeck, a Truman Medical Centers employee, told GMA. "I thought it was cute and grabbed some notes and put up a little winky face."
So, what started as a simple gesture to cheer up Meyer, turned into a fun back and forth Post-it note design party. The various window designs became more elaborate to include some very famous brands such as Mario Bros, Angry Birds, Ninja Turtles, and Minions.
"I thought, 'Oh wow, this escalated fast,'" Schindlbeck said laughing. And as the designs grew, so did the number of hospital staff members who wanted to join in on the fun.
Of course neither side had any idea who their Post-it note partner was, until Liz Mixdorf posted a design that said: "Thank you <3 mom."
That design brought the realization to Schindlbeck that her Post-it note partners were patients – this hit very close to home. Having lost both her brothers to cancer, she was reminded of all the times when she was unable to be with her brothers while they underwent treatments.
"If this little art makes him happy, gives him something to look forward to, and it makes his mother and his family know that other people care … it was so rewarding for me to see," she said. "I was just at the right place at the right time to be part of something that was so simply beautiful."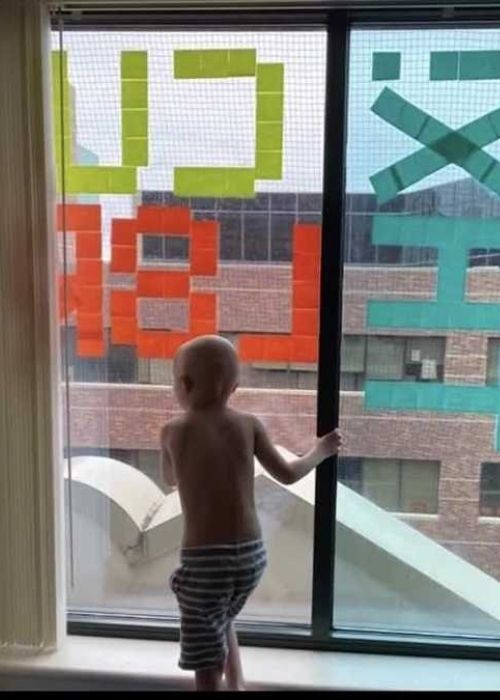 A couch located in Meyer's room near his Post-it note window became his bed – he needed to watch for his new friends. And as the posting continued, Meyer was able to get a brief peek at his new buddies.
"He just lived on that couch," Mixdorf said. "Sometimes the really great days were when he saw them changing it and they'd get to wave at each other," she said. "Sometimes he'd see them but they wouldn't see him so he'd knock on the window as if they could hear. He loved it."
Once Meyer's test results were such that he could go outside, he immediately wanted to go across the street to meet his posting friends.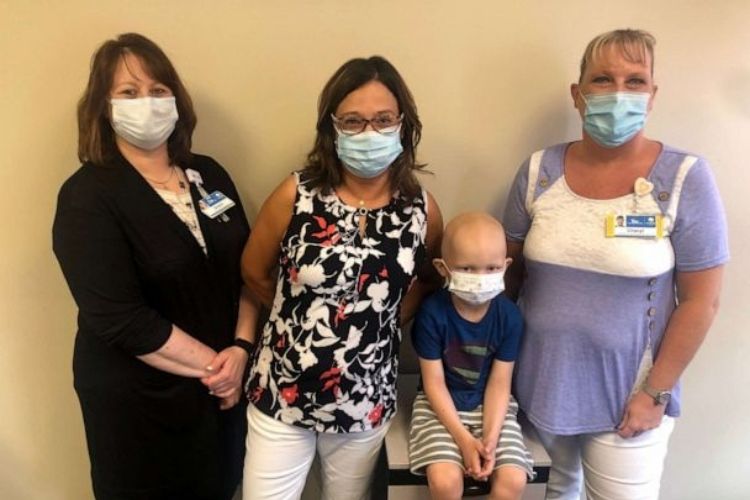 "I went to the security guard and she said, 'What are you here for?' and I said, 'I have a strange story,'" Liz Mixdorf explained. After briefly sharing the story and Post-it note art with the security guard, she and Meyer were immediately taken upstairs.
When Liz and Meyer stepped off the elevator the entire staff immediately knew who Meyer was.
"Everybody started crying," Mixdorf said. "It was really neat meeting him and to hug [Liz] and just know what it meant. It's something I'll never forget for sure."
With Meyer's latest test results showing good numbers and no sign of disease, the Mixdorf's will be returning home soon where they'll be making a special trip to the zoo – one of Meyer's favorite places. They'll also have to stop by and pick up a pack of Post-it notes, because, well, you just never know!
---
Good News Of Your Own?
Share Your Story Here
Report a typo or email a good news story:
share@majically.com
Latest posts by Al Stratton
(see all)