Adorable calf born with a disability in her back legs gets fitted with a custom wheelchair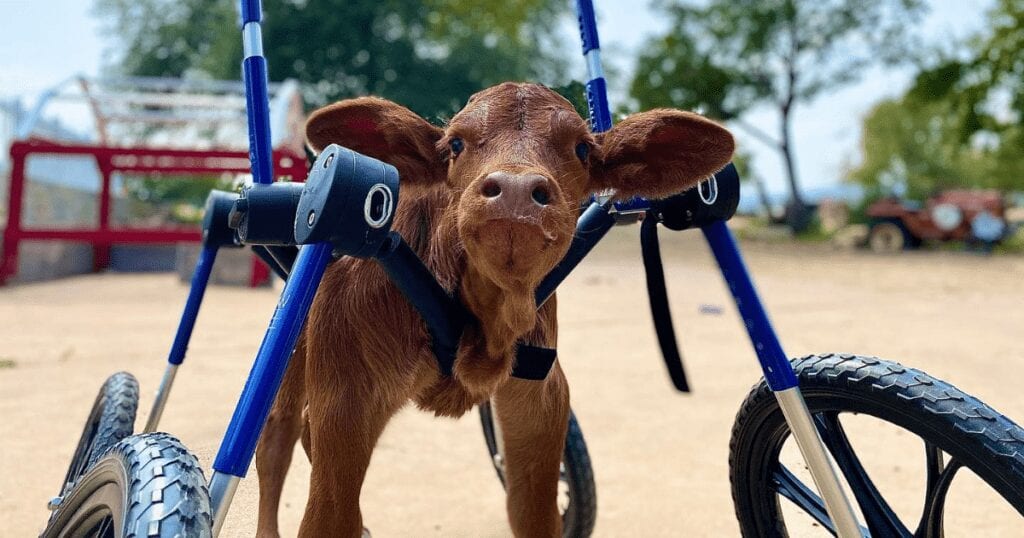 A red Angus calf, born with a disability to her rear legs, is mobile again thanks to a custom wheelchair made for her by a company that specializes in pet mobility.
Ruby Sue is one of the many animals that have been taken in by Safe in Austin, an animal rescue organization that saves animals from severe abuse or neglect, rehabilitates and rehomes the ones that are able, and offers a safe and loving forever home for the rest.
The wheelchair was custom-built by Walkin' Pets in New Hampshire, a place where they believe that elderly, disabled, and handicapped pets deserve to live a happy, healthy life.
"THANK YOU Walkin' Pets by HandicappedPets.com for working so quickly and creating this custom cart for our baby girl!," the rescue organization wrote in a Facebook post.
"Like so many of the special needs children that come to visit and heal alongside our rescue animals, this girl is happy, loves big, and doesn't know life any other way."
The custom chair is designed to expand as she grows and the rescue group said Ruby is getting better at walking every day.
"We have some work to do to help her figure out the forward motion with her front legs and also getting them underneath her since she's so use to them being splayed out…but we'll get there!!"
But despite her disabilities, the group said her joy is contagious and they want to do everything they can to love her and offer her hope and friendship as she navigates her new normal.
---
Good News Of Your Own?
Share Your Story Here

Report a typo or email us your Good News:
share@majically.com