A pig who escaped from a New York livestock auction was rescued and is now a 'sassy' pet who loves carbs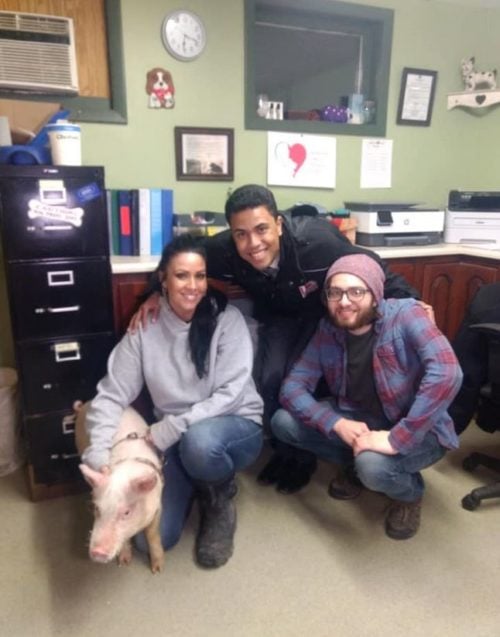 A pig who is now known as Myles the Pig, was lost in New York after escaping a livestock auction – that is until he was rescued by a group of volunteers and has since been domesticated to be a sassy, yet loving pet, who absolutely loves carbs – can you blame him? Carbs are delicious!
And now the New York state pig is adjusting well to his new luxurious lifestyle, one bite of starchy goodness at a time.
"He likes what he likes," Delaware Valley Humane Society Director Erin Insinga told HuffPost about Myles, the young pig discovered roaming the streets of Unadilla, New York, near a livestock auction house last month.
Now a days, Myles enjoys the simple pleasures in life like going for walks, eating carbs, and getting lots of love from humans. Oh, and he seems to hate eating any veggies.
"He's very sassy," Insinga said, continuing on to say that the chubby carb lover can throw a "fit" if he doesn't get exactly what he wants, she told the HuffPost.
"He likes mushroom pizza," she told local news station WBNG. "He loves crackers. Anything with carbs, he loves."
But just a short time ago, Myles' future didn't have such a positive outlook.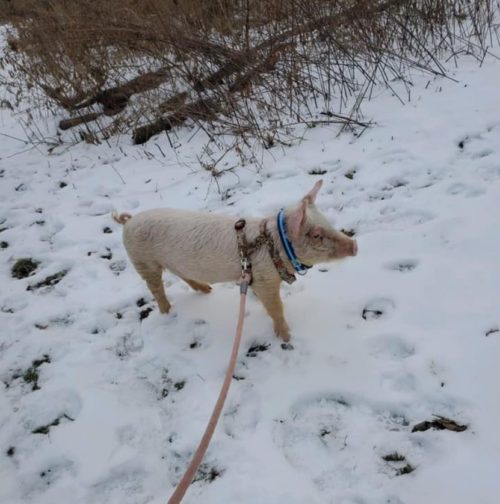 In mid-December, Insinga got word from a friend that there was a pig walking the sidewalk not far from her home, which is located near the livestock auction Myles escaped from.
"The conditions were really, really cold and it was wet, and it was pitch black out," Insinga said, but convinced that the animal needed help, she ventured out to investigate anyway.
And even though she was unable to capture the panicked animal and take him somewhere safe, there was something inside her that felt a strong connection with him.
"This pig just speaks to me," she remembered thinking. "I have to help him."
So with the help of several community volunteers, Myles ended up safely being captured and taken to an animal shelter for evaluation.
After hearing about the incident, the auction house reached out and surprisingly still required payment for the missing pig – but luckily the payment was only $10, which Insinga happily paid saying "[She] didn't want to get myself or the shelter or the volunteers in trouble."
While she's unsure exactly how Myles escaped, Insinga said the tag that was in his ear made it clear that he was headed for auction and, very likely, to eventually be slaughtered for meat ― since that's the reason people would typically be purchasing a pig of his breed.
But thankfully that future is off the table for Myles (no pun intended), and the sassy pig is growing fond of his carb-filled lifestyle.
"He's thrived with us," said Insinga. "Every day he became more and more receptive to love and affection from us, and training," adding that the now-60-pound pig has learned to sit, turn and walk between his trainer's legs.
Since pigs of Myles' breed grow up to 800 lbs, it was very important for the shelter to find a forever home that would be able to accommodate the animal's specific needs.
And just last week, the shelter announced that it had found Myles a home.
"A wonderful woman in Vermont who has a very small farm just for fun wanted to add a pig, so it seemed like the perfect opportunity," Insinga said.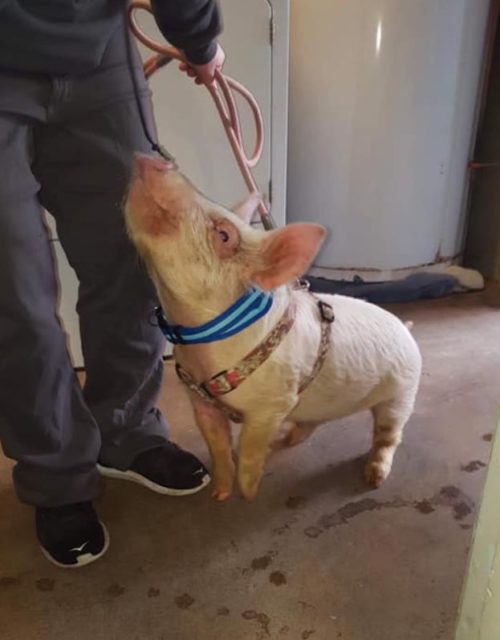 She hopes Myles' story will help people be "more conscious" about their dietary choices and that his personality and his story will encourage others to look at animals "as something other than something that needs to be consumed."
Pigs, like most other mammals experience a range of emotions, including happiness and sadness – which is why it's important to help these animals find homes in which they can be cared for in a way that allows them to live beautifully.
We as humans know what suffering feels like, which is all the more reason to treat every animal, including each other (because we're animals too) with love and respect.
---
Good News Of Your Own?
Share Your Story Here

Report a typo or email us your Good News:
share@majically.com