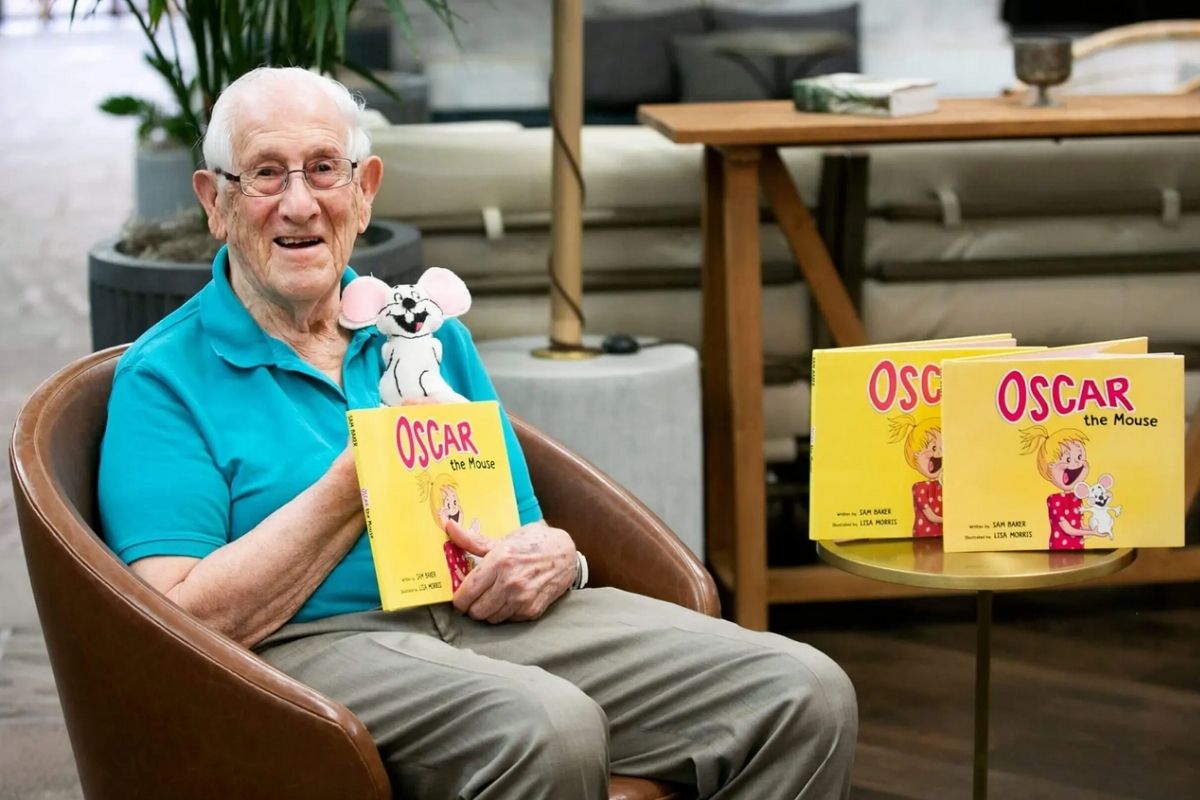 A 99-year-old WWII veteran is proving that you're never too old to start a career after writing and publishing his first children's book.
Sam Baker grew up in Scottsdale, Arizona before joining the Marine Corps at the age of 19 in 1942. This was four months after the attack on Pearl Harbor. He returned to civilian life in 1947 when he joined the U.S. Coast and Geodetic Survey, or currently known as the National Oceanic and Atmospheric Administration (NOAA). Baker worked for the NOAA for 30 years before retiring.
At the age of 95, Barker decided to become a writer after he purchased his first computer. With the encouragement of his son, he wrote his first children's book called "The Silly Adventures of Petunia and Herman the Worm." Barker took inspiration from stories he used to tell his children about a worm named Herman when they were growing up. The book was published in 2018.
In 2020, Baker published his second book called, "Oscar the Mouse." It was based on his old childhood pet, a white rat.
"When I was a youngster, somebody gave me a white rate as a pet," Baker said. "She and I used to have a good rapport. But my mother wouldn't let me take her in the house, so I had to build a cage for her outside."
Baker knew that "people accept mice over rats" so he decided to change the pet into a mouse. There will be another book about the pet that will be published in "early to mid-2022."
Growing up, Baker struggled with learning how to read. He shared how his teachers taught him the 'sight-say method', but didn't learn phonics until he was an adult. Eventually, he developed a love for reading in the ninth grade when he was tasked with writing a dozen book reports in one year.
He also mentioned how his then 3-year-old daughter, Sally, made the effort to read to him.
"She had me sit on the couch, she got her favorite children's book, climbed into my lap, faced away from me, read me the whole book, closed it with authority, turned around and gave me the biggest smile," he said.
The memory of his daughter's willingness to learn how to read has stayed with him.
Baker's main motivation for becoming a children's author stems from how much he wants to inspire younger generations to continue on the love for the written word.
"Both of my books were written with two basic goals: to encourage children of all ages to learn to read and to impart an important life's message of acceptance," he said.
"If my book can encourage children to become avid readers, I will feel that I have been a great success."
Despite authors not earning plenty of money, Baker stays true to his original motivation of encouraging children to read.
"I don't want to make money," he added. "I want children to learn how to read."