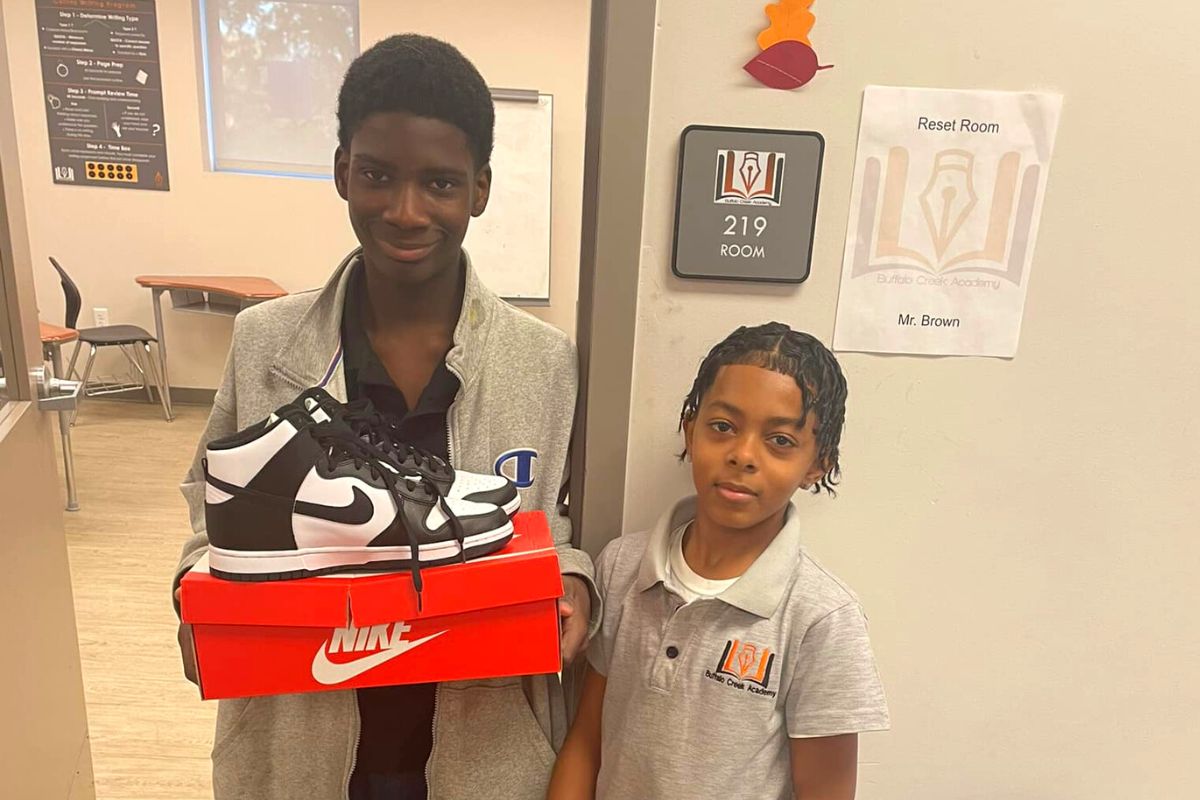 A 7th grader used his own allowance to gift his friend a new pair of kicks after he was bullied by other kids at school.
12-year-old, Romello "Mello" Early, of New York was a witness to his fellow 7th-grade peer, Melvin Anderson, getting mocked for having tattered shoes by other classmates at Buffalo Creek Academy Charter School.
"It just put a real ache in my stomach to see somebody have to go through that," Mello told WGRZ.
They called Melvin's shoes "dirty", and Mello had enough of their taunting.
Mello asked his mother Anita James to take him to the store.
Per reports, she agreed and decided to bring him to a store to purchase a new pair of kicks for his friend.
With his own money, Mello spent $135 on a pair of black-and-white Nike Dunks, according to the Post.
A day later, the shoes were gifted to Melvin who said he was "totally shocked" and "felt very happy and very surprised."
It was a joyous moment and even the Dean of the school weighed in on the act of kindness.
"My student Melo told me he was tired of other students picking on Melvin about his shoes," Bryant Brown Jr., Dean of Culture at Buffalo Creek Academy wrote on Facebook, later adding, "This is what I live for 💯 💯 be that helping hand."
Mello said that he knows what it feels like to be picked on, "All the grades I went through, I was picked on because of my height," he said.
Mello knows it wouldn't be right to just let it slide.
"And the way it made me feel, I just thought … nobody else should have to go through that feeling," he added.
A Facebook post was made on behalf of the kind act that Mello did, by their Dean who wanted to spread the good deed.
"Teach your kid to be very kind to one another so that you can have a good atmosphere at school and the culture of school can be a great and peaceful place so that kids can feel comfortable going to school," Brown said. "We want to try build a foundation within our school to make sure that kids won't ever feel like they don't want to go to school. We can help them, just like Mello helped Melvin."
Latest posts by Kayla Kissel
(see all)