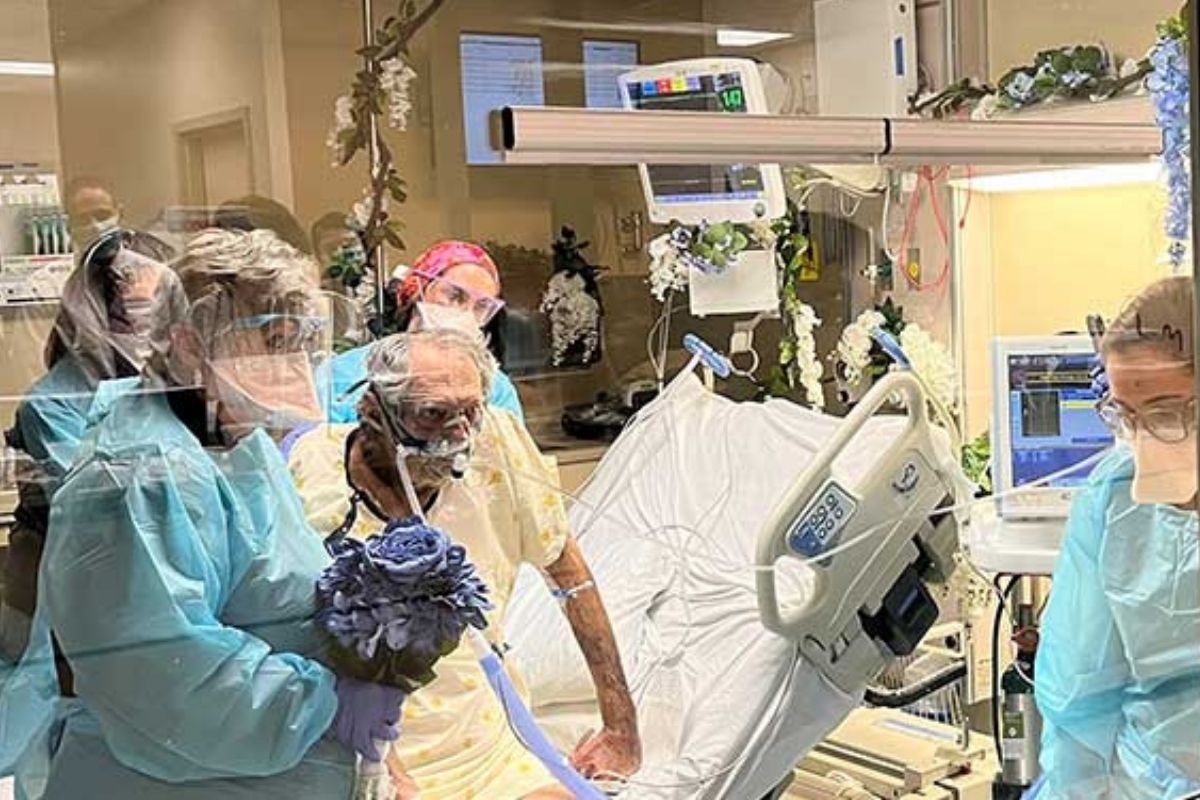 The staff at MountainView Hospital came together to celebrate life and love by hosting the wedding of one their COVID ICU patients.
The patient, Eddie, was diagnosed with cancer in October of 2021 scarcely 3 moths after being told his cancer was in remission. He later contracted a bacterial pneumonia infection and Coivd-19, all of which led to his stay in the ICU. Eddie remained alert and of sound mind through his treatments, including a non-invasive ventilator called BiPap.
On January 24th Eddie reached out to Patricia to ask her to marry him, over text to comply with Covid protocols.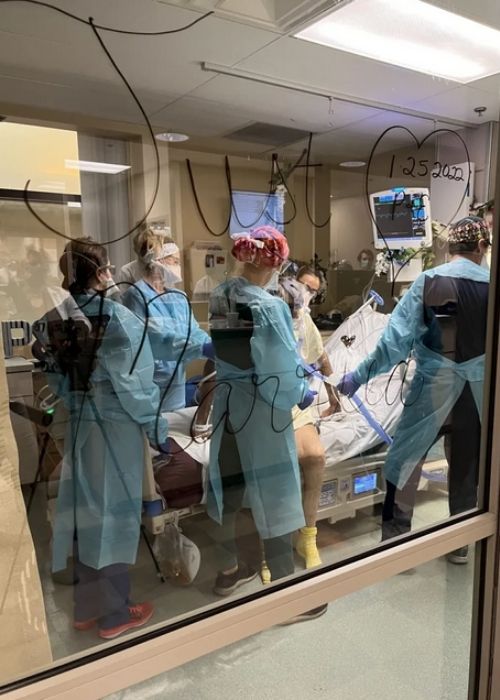 Eddie and Patricia first met and got married in the 1970s.
"We were young and stupid," Patricia said with a laugh. "We divorced in a year but maintained contact over the years."
The two went their separate ways and lived their own lives, both married again to loving spouses and started families. Patricia held a proud nursing career. Eddie went on to serve in Vietnam and Kosovo in a 33-year military career.
The two reconnected in their 60s through Facebook. A little over 5 years ago Patricia got a notification that it was Eddie's birthday, "Happy Birthday to my favorite ex-husband", she responded.
Eddie stopped in Las Vegas after visiting his son on the East Coast and offered to take Patricia out to dinner. The spark that brought them together when they were young still shined bright. In 2017 Eddie sold his house in California and the couple bought a home together in Las Vegas.
"We've had five wonderful years" Patricia said, "We never really thought about getting married (again)".
Due to Covid safety protocols, the wedding was the first time Patricia had seen Eddie since he was admitted to the ICU. The hospital's administration had to sign off to allow the wedding to take place in person.
The entire ICU staff worked together to make the wedding happen. Nurses gathered up artificial flowers to decorate the room, one even made a bouquet of blue flowers for Patricia to hold.
A team of clinicians worked to help Eddie sit upright in bed for the ceremony. Chief of Medicine, Dr. Jaqueline King combed Eddie's hair before the ceremony and acted as the couple's witness on the paperwork. Natalia, a physical therapist, thanked Patricia for allowing her to be present at the ceremony.
"We hope this day was an unforgettable experience for Eddie and Patricia," said MountainView Hospital CEO Julie Taylor. "This is proof that love prevails, and that people are stronger together and that there are joyful moments amidst the challenges. "It was our pleasure to celebrate with them and share in their joy."
Latest posts by Julia Dodds
(see all)